People called Salma Hayek a "goddess" while she was enjoying National Bikini Day. Yes, that really is a day.
The Mexican-American actress, who is 56 years old, shared a racy picture of herself on Instagram to honor the holiday. It's safe to say she did it right.
Hayek showed off her beautiful body in a multicolored bikini with a tie-up top and matching bottoms, and fans loved her confidence.
Hayek had her hair down in the picture, and she wore only a ring and long chandelier earrings with her swimsuit. She stared straight into the camera, which showed off her beautiful, make-up-free skin.
View this post on Instagram
The star was standing in an indoor swimming pool as she celebrated a day that not many people knew existed before her post.
Fans were blown away by the photo, writing things like "Gorgeous as always!" and "Oh my goodness, wow." Beautiful Salma Hayek."
Others said, "Salma, you look good," and "Let's make national bikini day happen every week."
One person even wrote, "I can't believe how incredibly beautiful you are. She was just a goddess."
Hayek has had a long and successful career in the film business, but it seems like she has only been given one role to play: the "sexy" one.
Hayek talked to GQ in February about how it felt to be typecast in "sexy roles" even though she wanted to try out other types of characters.
""I was typecast for a long time," she said" to the source. "All my life, I wanted to do comedies, but no one ever gave them to me. "I couldn't get a part until I met Adam Sandler, who put me in a comedy when I was in my forties". The movie was called Grown Ups and came out in 2010.
"They told me, '"You're hot, so you're not allowed to" be funny.' ""Not only are you not allowed to be smart, but in the 90s, you also weren't allowed to be funny," she said.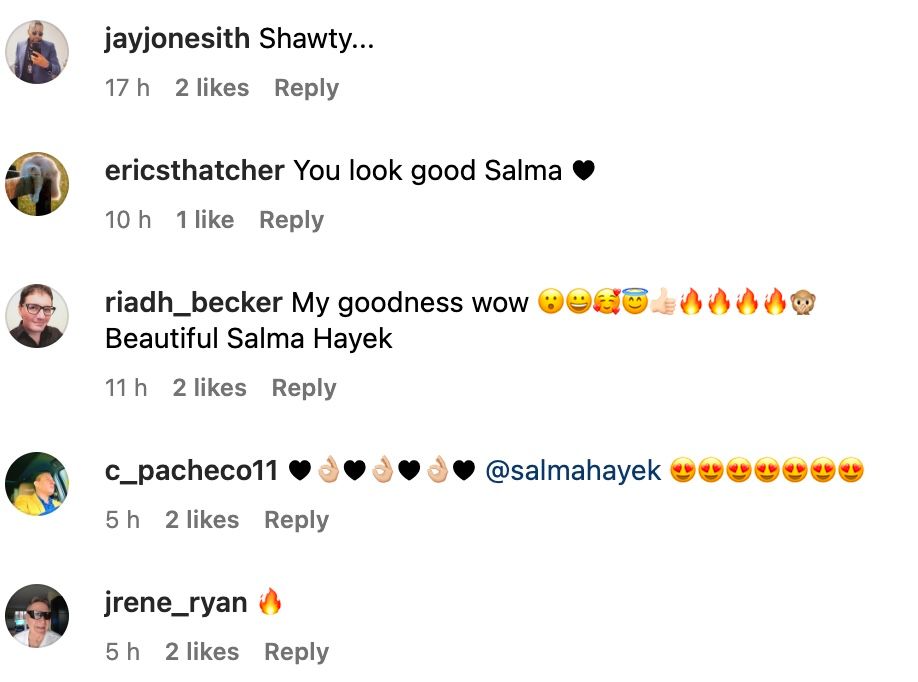 "I was sad at the time, but now I'm doing" all kinds of music at an age when people told me I'd be dead and out of business for the last 20 years.
""So I'm not sad, I'm not angry; I'm laughing," she said", adding that she was "clearly not laughing."
"I'm laughing, girl," she said again, jokingly.