Gloria Carter, who is JAY-Z's mother, just got married to her longtime partner, which is a big deal!
TMZ said that the mother of the Empire State of Mind musician got married to Roxanne Wiltshire over the weekend. The wedding took place in the Tribeca neighborhood of New York City.
Congratulations to Gloria Carter (Jay-Z's mom) and Roxanne Wilshire on getting married over the weekend in NYC. Much love to the Carter family. ♥️👩🏾‍❤️‍💋‍👩🏾👩🏾‍❤️‍👩🏾 pic.twitter.com/IPLxFc1ErU

— The G-Listed (@theglisted) July 4, 2023
The 53-year-old billionaire's wife Beyoncé, his mother-in-law Tina Knowles, and his daughter Blue Ivy Carter were among the guests at the special day. Kelly Rowland, Tyler Perry, and Robin Roberts were also there.
Complex says that the wedding party didn't stop until 1 a.m. on Sunday, July 2.
View this post on Instagram
No pictures of the happy couple on their wedding day have been released, but the 'Crazy in Love' singer, who is 41 years old, showed off her wedding guest look on Instagram. She wore a peach-colored ensemble gown with a feathered jacket, a lace bag, and a pair of sunglasses.
In public pictures of the Carter family on their way to the reception, JAY-Z and Beyoncé's 11-year-old daughter Blue Ivy was wearing a sage green silk dress with a chain necklace and a pair of block heels.
Beyoncé & Blue Ivy spotted out & about🥹❤️‍🔥 pic.twitter.com/pabky5mNCR

— 𝗱𝗮𝗻𝗻𝘆🫧💚 (@beyoncegarden) July 3, 2023
In 2017, JAY-Z's thirteenth studio album, 4:44, had a song called "Smile" that was the first time he talked about his mother telling him she was a woman.
The words to the song say, ""Mama had four kids, but she's a lesbian/Had to lie for so long that she's a thespian/Had to hide in the closet, so she took medicine. The shame of society and the pain were too much.
"Laughed until you cried when you fell in love"/JAY-Z, whose real name is Shawn Corey Carter, rapped, "I don't care if it's a him or a her. I just want to see you smile through all the hate. Marie Antoinette, baby, let 'em eat cake."
"During an interview on David Letterman's Netflix show My Next Guest Needs No Introduction", the Grammy winner also talked about the time his mom told him she was in love.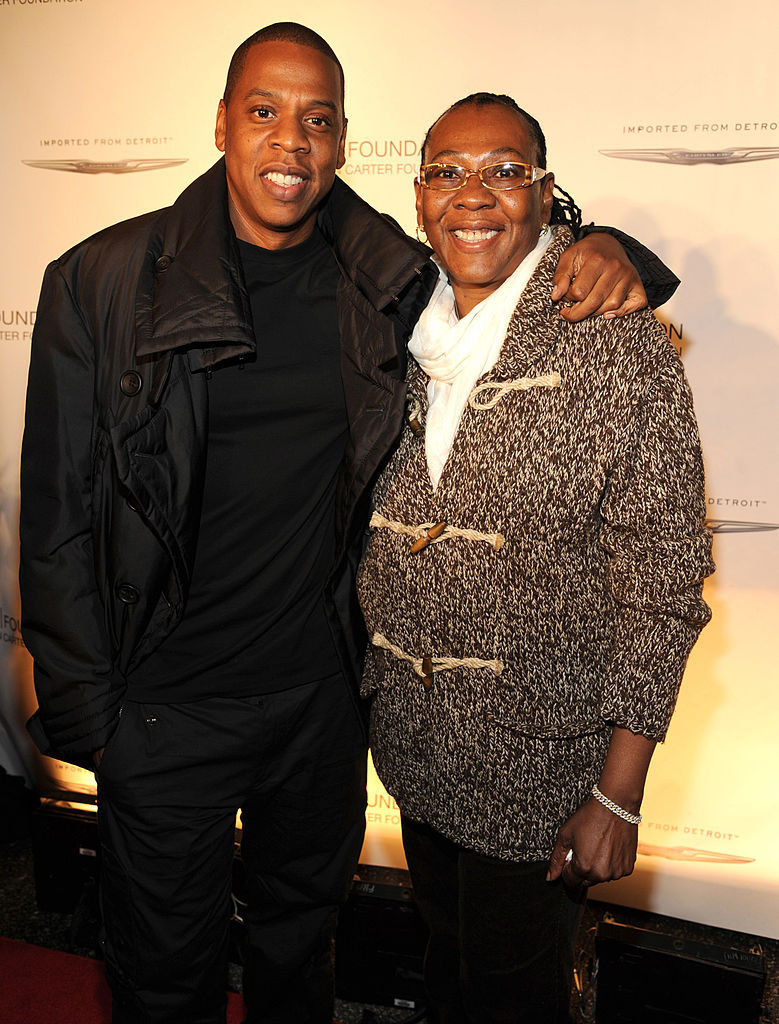 "Imagine having to live your life as someone else and thinking you're protecting your kids," he said in 2018. "When she sat down in front of me and said, 'I think I love someone,' I really started to cry…I cried because I was so happy for her that she was finally free."
On the D'Use Friday show in 2017, Gloria also talked about the heartwarming moment she told her son she was gay.
"As I sat there, I told him that one day. I've only just started to tell him who I am. This is who I am, besides your mother, you know? "This is how I lived," she said, according to PEOPLE.
"So my son started to cry because he said, 'That must have been a terrible life, Mom.'" I thought, "My life has never been bad. It just wasn't the same.' "So he wanted to write a song about it," she said.
Gloria and Roxanne should be happy.