A Nebraska groom died just after he said "I do" to the love of his life. It was a sad turn of events.
Friends and family say that Toraze Davis died tragically "an hour" after his wedding ceremony. This was a shock to everyone who had come to enjoy his love for his bride, Johnnie Mae Davis.
NBC News says that on Monday, June 19, the couple said their vows and promised to spend their lives together. Their children, parents, and other loved ones cheered and wished them well.
Their happiness didn't last long, though, because Toraze suddenly fell down and had to be taken to the hospital right away.
The dream day turned into the worst nightmare possible, turning the day of love into a day of great sadness.
Monica Miller, the bride's boss, went to the wedding and was shocked by what happened. She told NBC News that "the happiest day of their lives turned into a day of tragedy."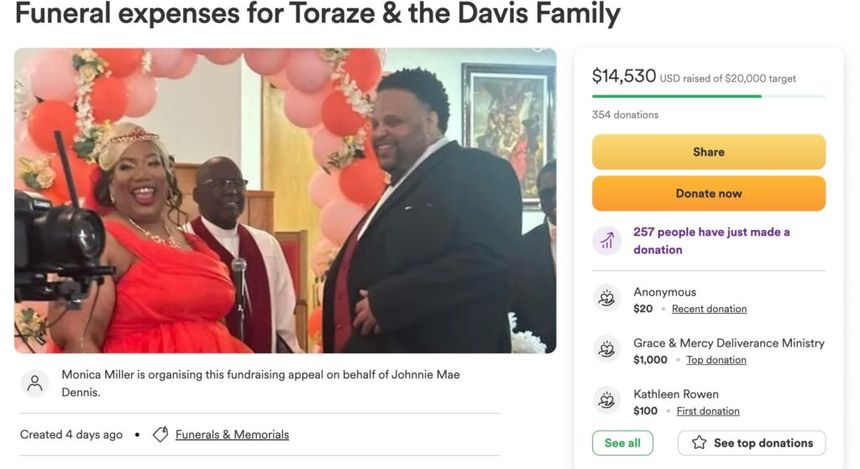 After this sudden tragedy, friends and family are coming together to help the grieving bride. They have set up a GoFundMe page to help pay for the funeral and the couple's children's bills. So far, the online fundraiser has gotten a lot of support. By Saturday afternoon, over $14,000 had been given.
The heartfelt description of the fundraising page talks about the pain caused by the tragedy. It says, "Johnnie Mae lost her husband suddenly yesterday, on their wedding day… Unfortunately, Toraze died not long after he said "I do." We all feel terrible for Mrs. Davis and her kids.
"We want you to give money to help pay for Toraze's funeral and to help the new bride take care of their children."
Miller is the one who came up with the idea for the fundraiser. He put it very well when he said, "She went from planning a wedding to now planning a funeral."
A friend of the bride, Jewel Roberson, told KETV in Omaha about the shocking chain of events: "In a second. It happened in a very short time. In just 10 minutes, she lost her husband and got a new one.
Good Shepherd Funeral Home says the funeral for Toraze Davis, who died in a tragic accident, will be place on July 5.
At this time, we are thinking about Davis's family and friends.